Does being a high performing employee mean you will be a high performing people leader?
As a high-performing employee the lure of gaining a leadership position is worth striving for. And why not – you've earned it right? Undeniably, earning a leadership position is the sign of achievement and is highly worthwhile. However, does this mean you will also be a high performing people leader?
Not according to the statistics that found 60 percent of new managers fail within their first two years!
After 10 plus years of developing, motivating and supporting new people leaders, I have identified three common reasons that new leaders and managers fail. Being aware of these pitfalls – and acting on avoiding them – will ensure you a great start to your new leadership journey.
1. Uncertainty about how to be a people leader
It is very common for organisations to promote people or hire new people, based on their current performance. They could be an expert or high achiever in their field and are promoted or hired based on this. Unfortunately, as what often happens, they are not evaluated on their leadership capabilities and it's these capabilities that are necessary to lead people in a team.
Without people skills and the ability to speak with, get along with and motivate people they become a 'taskmaster' and the person 'in charge' of the team. If you don't have people skills how can you understand what work is being done? Even if you know what to do – it's unlikely you can do it all yourself.
Taskmaster – /ˈtɑːskmɑːstə/

noun

a person who imposes a harsh or onerous workload on someone.
Letting go of 'doing' your old tasks, as I discussed in another post, is important for you and your team to achieve your goals. Instead of reverting to what you know, focus on what people leadership gaps you have. Discover your growth opportunities and seek our ways to learn by:
reading leadership books and blog posts
seek out any internal leadership training your organisation offers
use your network to find a mentor or leadership coach
When you are asked a question by your staff use 'ask' not 'tell' theory – even if you know the answer (What do you think? What would you do? Why is that?)
Leadership, particularly people leadership, is about helping others reach their full potential.
Think about this, what could your team achieve if every single one of them was a high performer?
2. Reluctance to listen, watch and learn
I have mentored many new leaders and found it interesting that some of them feel that, in order to start their new role strong, they need to change something soon after they are in their leadership role. They think this is how you gain respect from the team and will help them be remembered by.
Interestingly, the employees in your team, the ones who you are there to support, are likely to be feeling afraid that this is something you will do.
Trying too hard to achieve something with no regard for who you step on along the way is not going to end well. Over promising to implement big changes to make things better and then under-delivering – is not a great start!
Everyone in the team understands that you are new. Either new to the team or new to people leadership. As such they don't expect you to do anything – not straight away. Overtime their expectations will increase however, if you follow these tips, you will be ready to go with confidence!
During your first 90 days –
be in observation mode. Listen, watch and learn. Ask questions, seek clarification and seek understanding what your team does and how it relates to the objectives of the wider organisation
encourage others to share ideas, suggestions and thoughts
let your team know what you are doing and advise them that you have no immediate plans to change anything
set the expectation with your direct manager. Let them know your short-term goal is to listen and learn from others plus getting to know the team
while you are in observation mode ask the team how you can support them. Ask them what are their pain points are? What does success for them look like?
be curious and ask powerful questions that provide you with knowledge about the current situation
3. Unwilling to get to know the team members
Successful leadership relies on people and the professional relationships with those people. If you're fortunate enough to be in the privileged position to lead others, then you have a professional obligation to support them. Supporting them to be the best they can be for them and for your organisation.
One way to understand how best to support them is by talking, listening and working with them as this will build trust and cement strong relationships.
If you're reluctant to get to know your team members then think about the consequences of not getting to know them. I'm not suggesting you become best friends however humans are social creatures and crave social interaction. If you make no effort to get to know them then all your conversations will be about you – and this is not good especially as first impressions count.
You don't know – what you don't know – therefore, find out what you don't know by making one of your goals to get to know your team members and build relationships with them. Catch up for coffee, walk around your team, ask how their weekend was – what did they get up to or what was their favourite part of their holiday. All these types of questions are easy, genuine and show others how much you care.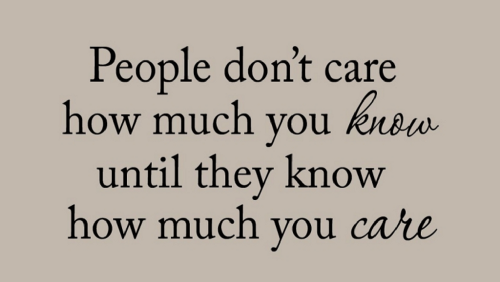 If you moved from co-worker and friend to manager or leader you don't have to lose those existing friendships however you do need to do things differently. My previous post about Managing Friends has some great tips to navigate this rocky path.
Conclusion
As a new leader you are only ever successful if your team is successful – there cannot be one without the other.
Learning to be more people orientated by honing your leadership skills through self-development is a vital key to success. Successful leaders understand they are on a journey of learning and this greatly assists them to be more self-aware, more effective and a confident people leader.
Watching, listening and learning will help you to gain a better understanding of the current situation and where you can support your team. This also provides a great opportunity for you to start having conversations with your team members and building those all-important relationships.
What's been your biggest challenge as a new leader?
---
Keep on learning,
Rex